What a crazy weekend we had!! Saturday we went to the car show here in town to promote our Scout pack, great job guys!!
Then, 5 Scouts came home with us for Gabe's sleepover! CRAZYness, I tell ya, but they had a blast! We had a silly string war, roasted hot dogs, ate smores and even after all of that they STILL stayed up till 2am! On his real birthday, Monday, we took cupcakes to school and went to the fire station to see Jamie (he had to work). I'd say he had a pretty good birthday (although he says I owe him a cake).
On Monday we also had another big milestone. For YEARS Abi has been begging to start dancing lessons. Well, since next year she starts Kindy, I decided to let her. TALK about love!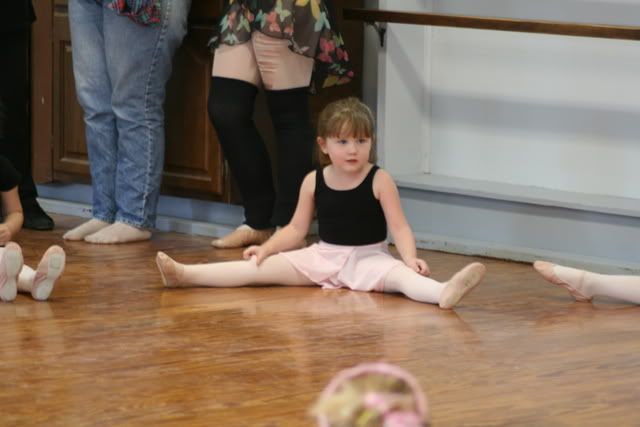 I love Haller Ballet, which is where she is going. Sarah went there for a little while, before she realized that she wanted to ride horses instead of ballet. They are kind and patient, but firm, and they really teach, and that's right up my alley!
Coming out she said,
"I love you mommy, thank you for letting me dance. Now..am I going to get to come back again?" Just melted me! She's already dreaming of recitals. Makes me feel like I've found a perfect place for all of my kids ya know? Gabe's a Scout, Sarah adores Dibbs (the horse she rides) and riding in general, and now Ms Abber has dance!
And of course there were cakes...there are always cakes. This weekend I made a princess cake for a lady who will ALWAYS be a princess to her friends, and a kitty cat for a sweet one year old.
I made all the accents on the cake from fondant, even the dragon. We bought the princess, b/c I just didn't think I could make her look right! I hope that Jen enjoyed her birthday cake!
This cake was for a little one year old girl! She had the most patient grandpa, b/c I was having a terrible time getting the message for it done when he got here, my edible printer decided it was on vacation! The boys sat and watched me make this cake (my 5 Scouts that were sleeping over) it was TOO hilarious! Made all of these accents with fondant too!
And..there were the 90 cookies I mailed to Liz! Durn fed ex, they drop kicked my box, and broke almost 1/2 of them. Thank God for Liz's foresite to make another favor!
Ever wanted to see what 90 cookies look like on a small kitchen table?
What an awesome party it must have been with Liz running the show!! I hope my daughters grow up to be JUST like her!
Well, that's about it for our awesome week! We're working on another one now, and hoping to make it to the fair this weekend with the kiddos for some fun! Just one cake to do this weekend, a seriously fun one at that, so I'm looking forward to it!
I hope YOU have an awesome week too!